Hotel Imperial Laguna Faranda Cancún Best beaches in Cancun
Blog Hotel in Cancun
Best beaches in Cancun
Faranda Posts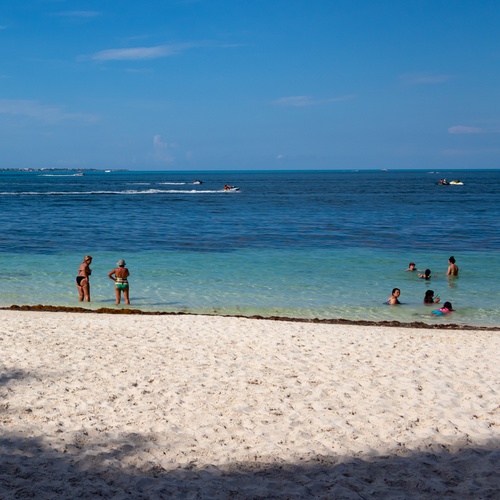 The most frequent question we get from our future guests is: 'Which beach should I visit? And to be honest, that is difficult to answer! They are all beautiful and worth enjoying while in Cancun. But each offers different services and experiences. In this blog we will tell you about some of the most popular beaches in Cancun so you can create your itinerary according to the experience you are looking for.
Playa Langosta and Playa Tortugas for a family day out.
These beaches are famous among families thanks to their clear waters, low waves and shallow depth. Perfect for children to enjoy! Both have a small parking lot and restaurants, but Playa Langosta has a playground, public bathrooms and showers, so you can spend the day without worrying about these services.
Click here for the location of
Playa Langosta
y
Playa Tortugas
.
Playa Caracol, very close to everything.
This beach is also just a short bus ride away from Hotel Imperial Laguna. Although it is a small beach, and has no public bathrooms or showers, you can cool off in its calm transparent waters, and enjoy a wide variety of dishes, drinks or snacks, as it is just a few steps away from restaurants, a popular coffee chain, and a supermarket.
How to get to Playa Caracol?
Click here
.
Playa Gaviota Azul, an iconic beach.
Better known as 'Forum' for its proximity to the shopping mall of the same name, it is famous for its dazzling blue tones that captivate visitors. However, the waves can be strong, and we recommend to be very cautious and aware of lifeguards' instructions when entering the sea.
There are no public restrooms or showers, and restaurants are far from the beach, so we recommend you to bring your own cooler, drinks and food when you visit
Playa Gaviota Azul.
.
Playa Delfines a must stop on your trip to Cancun.
Surely you have heard of this beach as "El Mirador" for the incredible view of the Caribbean Sea with its various shades of blue that are irresistible to mitigate the summer heat, but as in Gaviota Azul, be sure to take precautions when swimming because the waves and ocean currents present on this beach, often take by surprise some swimmers and, on the other hand, bring together lovers of surfing and parasailing.
Even if you do not practice these sports or do not consider yourself a good swimmer, you should visit Playa Delfines because you will find the famous Cancun sign, which makes this visit a must to capture amazing moments and landscapes of your trip. It also has public palapas, bathrooms, showers, and playgrounds for children, making it ideal for a family trip.
Learn more about Playa Delfines
here
.
Have you visited any of these beaches? Which one is a must every time you visit Cancun? If you need a break from routine, we are waiting for you with sun, sand, sea and nightlife. Start planning your stay at Hotel Imperial Laguna, located at km. 8 of the Hotel Zone, close to beaches, nightclubs, restaurants and shopping malls.
Book flight + hotel room in our website
and start recharging your energies with your incredible vacations in Cancun.
Back